Public Safety Diving – Emergency Response Diving International
ERDI is the Public Safety diving (PSD) agency that trains Police, Fire and other public safety organizations in Search and Rescue techniques (domestically and internationally) in just about every submerged environment known.   ERDI trains departments on how to make and maintain their own PSD teams along with being the only Public Safety diving training agency that has their own insurance that endorses its own standards.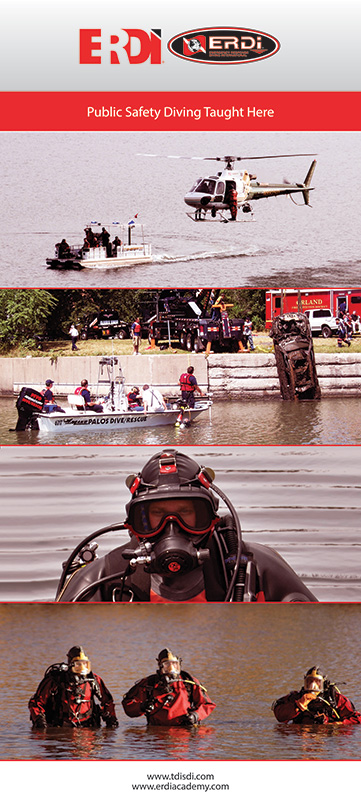 Not all Public Safety Diving certifications and instructors are recognized by OSHA and NFPA despite what they might claim.  Recreational scuba instructors and certifying agencies are for the most part not recognized; once you start a recovery operation by OSHA standards you are doing Commercial Diving, no longer recreational; make sure you are getting the right training and advice.  All ERDI programs are OSHA and NFPA compliant. In fact, some of the largest successful and renown departments use ERDI Programs to conduct their training.
Come to the experts; others claim knowledge (mostly just from reading an awareness course book), we have the actual years of experience domestically and internationally to back up our claims:  Our Instructors have a combined knowledge of Military (Special Operations, Tactical Intelligence, Counter Intelligence, Counter Terrorism, Psychological Operations, Aviation, Infantry), Law Enforcement (Violent Crime, Homicide, Corrections, SWAT), Emergency Medical Service (EMT's, Paramedic), Fire (State Fire Inspector-Investigator Emergency Vehicle Operator Trainer and Department Captains), Medical Examiner (County), Legal (Prosecutor and Public Defender).  Total military experience is over 30 years, Law Enforcement 20+ years and Fire over 30+ years of experience.
We offer a complete line of Public Safety training in the southeast.  The Dive Shop On McEver can assist your department with the following courses:
·         ERDI I
·         ERDI II
·         ERD Drysuit Operations
·         ERD Full Face Mask
·         ERD Contaminated Water Operations
·         ERD Under Water Crime Scene Investigator
·         ERD Under Water Threat Assessment
·         ERD Testifying in Court
Writing of SOP's (Standard Operating Procedures)